Sonic V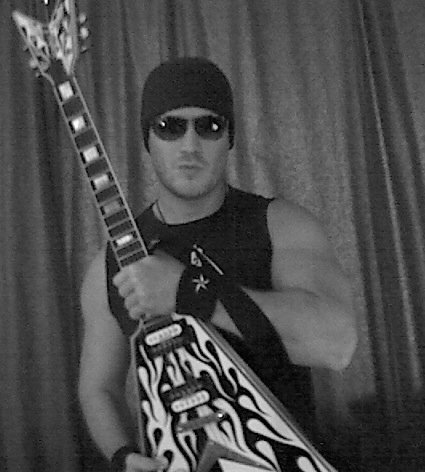 Paolo Zaino (in art Sonic V) is the guitar player and lead vocal of the band Obsidian Key.
He played in different bands before and different musical genres.
His musical influences goes from Rock to Heavy Metal, from Jazz to Fusion, from Classical music to Opera. His favorite musical genres are Progressive Rock and Prog Metal, Hard Rock and Fusion.
To listen to some Sonic's material (non-obsidian key stuff) have a look at Sonic's page on facebook.
How it all begun...
Sonic started to play music at the age of 10 years old. His father wanted him to study electric organ and to have a proper musical formation, so he sent Sonic straight to one of the best electric Organ maestro he knew at the time, "Domenico Diodati" (one of the persons Sonic admires more and considers an honor to have been his student). At the age of 14 years old Sonic started to play with his friends and later on founded his first "band" with his friend and class-mate Luca Mariani.
"We were playing in an abandoned house owned by one of our friends (Elenio Spezza). We were playing, using two - very cheap - keyboards, electronica covers of Jan Michel Jarre and movie soundtracks like Antartica, 1983 and Chariots of Fire, 1981 as well as working on music for first cool video-games for the legendary Amiga computer and the Acorn Archimedes" - Sonic V
After those first approaches, Sonic started to play keyboards in Rock bands, his hero at the time was (obviously) John Lord (Deep Purple). Sonic changed a number of line up and bands, in the classic chaotic moment when kids starts to try to make a band, before to reach a stable line up they named "Mynerva".
Mynerva's 1st stable line up was: Domenico Marulli - vocals, Giuliano Accurti - Rhythm/Lead guitars, Oliver Marrama Rhythm/Lead guitars, Stefano Mox - bass guitar, Sonic - Keyboards, Luigi Camarra - Drums.
The first results weren't that good, so Mox and Luigi left the band. They were replaced by Fabrizio Tronca - bass guitar and Giancarlo Foglia - Drums.
Later on Sonic approached guitars world, his dream, but his father didn't wanted him to own a guitar, so Sonic had to find a solution for that problem...
"When you are a kid and your parents says no to something you really want you haven't much choice..." - Sonic V
But something happened, one night while Sonic was walking back home he saw something on the river bank along the road to his house, an old acoustic guitar, left there by someone, maybe thrown away or just dumped off a car or a van. The guitar was in very bad condition, but without other options available, Sonic decided to take it and brought it home to try to fix and re-paint it.
After sort of fixing and re-painting the old acoustic guitar Sonic went down town to ask to one of his friends, Gianfranco Di Giovanni (who at the time was the best guitar player in town), to teach him some guitar techniques.
"I remember I used an horrible black paint for the guitar's body and neck and a white enamel for the edges, but this made the guitar look a bit more Hard Rock, so I liked it and it was my first - black and white - guitar LOL" - Sonic V
Gianfranco accepted and, probably, Sonic was his first student, but when Gianfranco saw Sonic's "number 1" guitar he seriously doubted that "that thing" could emit any note at all. Anyway, thanks to the enormous Gianfranco's patience and his great talent for guitar and for teaching, Sonic started to finally make his dream come true... playing a guitar!
After few months of full time guitar study Sonic came up with a new Mynerva line up and, because of the good results, his father gave up and helped him to get his very first Flying V shaped guitar, a wonderful Gibson Flying V '79 re-edition.
Mynerva 2nd stable line up: Danila Giunta - Vocals, Giuliano Accurti - Rhythm Guitars, Fabrizio Tronca - Bass Guitar, Sonic - Rhythm/Lead guitars, Giancarlo Foglia - Drums.
This line up released a demo tape with 8 songs which had strong Scorpions, MSG (Michael Schenker Group), Italian Rock and Deep Purple influences. This demo received favorable reviews from several Italian rock/Metal magazines at the time.
They decided to change their band name to "Antarctika" and the band started a set of gigs in Abruzzo receiving always more consensus from the public.
The last, and most famous, gig of the band was played at the Arabesque club in L'Aquila, the club was completely full even if that night the weather wasn't good at all.
Simultaneously while playing with Antarctika, Sonic played with a Pop music orchestra/band called "Soleima" (with Fabrizio and Danila), which had different lead vocals performing covers of different famous Italian and international Pop/Rock singers.
A "temporary" stop...
After their gig at the Arabesque, Antarctika got a bit confused about going on with their music, this due to a more busy time at University for most of the members, so, slowly, the band has stopped playing. At this point Sonic started to play with different bands, but all for short time, not finding anymore the "magic mixture" of sounds and melodies he liked. All this have had a temporary end with the Military Service's call for Sonic which interrupted all his musical activities for one year.
Back from the Service, Sonic interrupted his musical career dedicating himself full time to his job and future in computer world.
A new beginning...
After years of missing music, thanks to Sonic's friend (Eddy Deegan), Sonic decided to put together all the material he "sort of composed" during the past years for a solo demo/album. When Eddy has listened to Sonic's early recordings he liked them a lot and they both decided to build up a band and record a proper CD.
This was the birth of Obsidian Key on January 2010.
Now that Sonic is busy working on songwriting for Obsidian Key's debut work, he is finally back enjoying what he likes most.
Sonic's Guitar Setup
The nick "V" comes from the almost "obsessive" presence of a "V" in everything he plays! Sonic likes to collect V shaped guitars and at the moment he is playing a Dean Michael Schenker Signature Flame V (YES one of the 100 world wide!), Gibson Flying V 67' Reissues 1990 (Customized for Sonic with different pickups) and a B.C. Rich Kerry King V (Customized for Sonic with a Floyd Rose bridge).
Sonic uses Mesa Boogie amplifier, a Mark V (I told you Sonic has a V in everything he plays!).
Sonic's guitar rig is absolutely complex and it is controlled via a Roland FC-300 MIDI pedal board (expanded with 3 FS-6 pedals), Dunlop's original Crybaby wah a Boss guitar-volume pedal FS-100. The Multi-effect stack is comprised of:
T.C. Electronic C400XL compressor
Digitech GSP1101
Marshall JMP-1
Boss Metal zone pedal (connected in a complete custom way)
ZOOM RFX-2000 (later replaced with a T.C. Electronic G-Major 2)
Additionally Sonic uses custom pieces of circuits (here and there in the stack) to control also the amplifier via MIDI and to clean the sound from hums and buzz and to obtain a unique tone from the guitars he plays.
Sonic's drums setup
Sonic's Drum setup comprises of a customized Roland TD-30KV vDrum system (customized with extra PD-105 toms and a Roland SPD-30S Octapad). He uses Tama Iron Cobra double pedals and hi-hat pedal.
Sonic's bass guitar setup
Sonic's bass guitar setup consist of an Ibanez 6 Strings bass, Mark Bass Analog Compressore and Mark Bass amp and a digital rack system built on his Mac.
Sonic's keyboards setup
Most of the keyboards sound is made using Yamaha Motif XS (rack version) controlled through an Axiom MIDI keyboard, I also use PCs sound libraries always controlled through the Axiom.
There is more?
I can't believe you've been reading all this till here LOL, anyway here is the final line!
Apart from playing and listening to music Sonic enjoys traveling around the world, developing software, the Open Source world, arguing with Eddy about music and composition, studying new techniques for songwriting and playing as loud as he can! ;)
More info and other Sonic V projects can be found at: http://sonicv.info